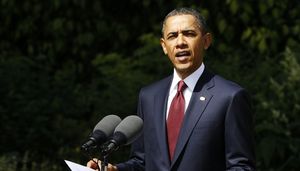 It isn't strictly accurate to say that Barack Obama once cared about civil liberties violations in the PATRIOT Act -- he has actually raised detailed objections to the decade old legislation at least twice. In 2005, then-Sen. Obama signed a letter
laying
out specific concerns that stretched to almost six pages. The next year, the former constitutional law professor took to the Senate floor, where he
congratulated
his colleagues for "a real, open, and substantive debate about how to fix the PATRIOT Act," and encouraged them to keep up their efforts: "I urge my colleagues to continue working on ways to improve the civil liberties protections after it is reauthorized," he said.
+++
Fun stuff to read, tell and watch:
...an Israeli lawyer has filed a class-action lawsuit against former President Jimmy Carter, seeking $5 million in damages because his book "Palestine: Peace Not Apartheid" allegedly defamed Israel. Link:
http://tinyurl.com/3pltqg2
"...when you have laws against questioning the Holocaust narrative, you are screaming at the other person to stop thinking!!!" ---Mike Santomauro. *Anthony Lawson's Holocaust Video "were the Germans so stupid"... Link:
http://tinyurl.com/44nsrco
Peace.
Mike Santomauro
253 West 72nd St
New York, NY 10023
Call anytime: 917-974-6367
__._,_.___
.
__,_._,___