Facebook Party Gets Out Of Control After German Girl Forgets Privacy Setting / Over 1,500 people show-up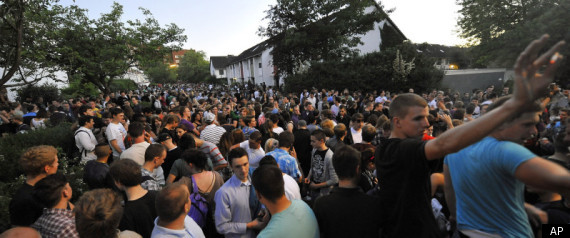 By KIRSTEN GRIESHABER   06/ 5/11 09:10 AM ET   
Excerpt:
A teenage girl in Germany who forgot to mark her birthday invitation as private on Facebook fled her own party when more than 1,500 guests showed up and around 100 police officers, some on horses, were needed to keep the crowd under control.
-- 


Fun stuff to read, tell and watch:

Now 

FREE

 to watch all 91 minutes: "Defamation," from Israeli filmmaker Yoav Shamir. LINK: http://tinyurl.com/3rvhdvc

Some of His Best Friends Are Jewish: The Saga of a Holocaust Revisionist By Nathaniel Popper. Link: http://tinyurl.com/3v6m88c

...an Israeli lawyer has filed a class-action lawsuit against former President Jimmy Carter, seeking $5 million in damages because his book "Palestine: Peace Not Apartheid" allegedly defamed Israel. Link: http://tinyurl.com/3pltqg2

"...when you have laws against questioning the Holocaust narrative, you are screaming at the other person to stop thinking!!!" ---Mike Santomauro. *Anthony Lawson's Holocaust Video "were the Germans so stupid"... Link: http://tinyurl.com/44nsrco

An anti-Semite condemns people for being Jews, I am not an anti-Semite.--Mike Santomauro. Link: http://tinyurl.com/42z9p8o

Peace.
Mike Santomauro
Call anytime: 917-974-6367
__._,_.___
.
__,_._,___