by Carolyn Yeager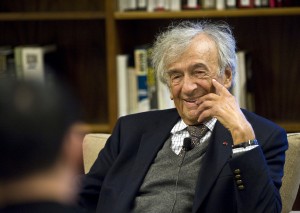 Elie Wiesel arrived at Chapman University in Orange CA on Monday, March 28 in his new capacity as "Distinguished Presidential Fellow" and gave a lecture titled "Knowledge and Ethics." He also spoke to a small class of Chapman Religion students. According to the Orange County Register [photo courtesy Paul Bersbach, OCR], he "answered several questions, but posed many of his own." This is typically the way Wiesel, 82, avoids revealing his ignorance of the entire topic of the concentration camps.
Wiesel's contract with the university, and specifically with the Rodgers Center for Holocaust Education which is the real sponsor and driving force behind the contract, is for five years. Thanks to a bequest from Barry and Phyllis Rodgers, the Rodgers Center was opened in 2000 for the purpose of helping to keep the memory of the holocaust alive, well, and lucrative.
Peace.
Michael Santomauro
@ 917-974-6367
What sort of TRUTH is it that crushes the freedom to seek the truth?
__._,_.___
.
__,_._,___