by Carolyn Yeager
But you'd never know it from reading the newspapers.
Five months after the original discovery, the Romanian mass grave case seems to have reached closure. In my
Nov. 17 blog,
I promised you I would keep my eye on this story. Just as I had begun to think it was a dead issue, the news broke.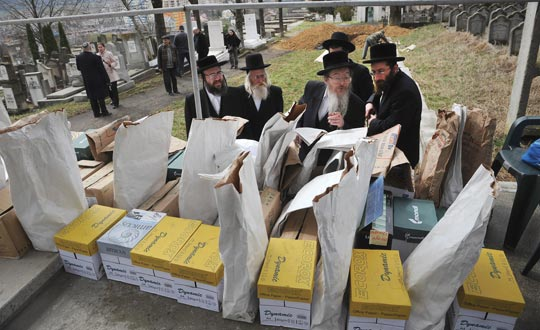 Rabbis from England and the U.S. supervise the boxes and bags containing the remains of 35 to 40 persons removed from a mass grave in Iasi, Romania in Nov. 2010. [photo credit: Daniel Mihailescu]
Jewish rabbis buried the remains of 35 unidentified persons in a single grave in the Jewish cemetery in Iasi, a town in northeastern Romania. The Romanian authorities found 35 sculls in a mass grave, but the spokespersons for the Elie Wiesel Institute for the Study of the Holocaust in Romania, which claims to have discovered the grave last year, says they can make the number at least 40 because "other remains were found." Most news reports, however, including Haaretz, Reuters and Vos Iz Neias (an Orthodox Jewish website), reporting from Jewish sources, changed the number to 60, and even implied via confusing language that there were 100 bodies. One hundred was the estimate used by the Wiesel Foundation before the grave was fully emptied.
.
+++
Peace.
Michael Santomauro
@ 917-974-6367
What sort of TRUTH is it that crushes the freedom to seek the truth?
__._,_.___
.
__,_._,___