With Commentary by Carolyn Yeager
This Q & A was presented in the Post and Courier newspaper on September 18 as a question & answer session in connection with Elie Wiesel's speech at the College of Charleston (South Carolina) on Sunday, Sept. 25.
I have added some comments and questions that I would have liked to ask Mr. Wiesel had I been allowed to be present. Of course, this was a very controlled event, if it were not, in fact, private, one week before the speech. The main interest here is how Wiesel skirts around all questions and gives the same pat answers that he has been giving for years. He has rehearsed what he will say and does not go beyond his rehearsed answers; thus his answers never change and often strike an aberrant note, as if not directly relating to the question. ~cy
The first picture accompanying this news story is the famous one that is permanently associated with Wiesel wherever he goes.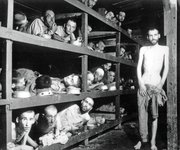 The caption tells us that Wiesel is in the picture, but
we,
the followers of this blog,know that he is not and that a
Gigantic Fraud
has been carried out concerning this picture, by powerful forces such as the New York Times, and by Wiesel himself.
Q: In your book "Night," you describe the ardent faith you practiced as a child and address the dilemma of a compassionate God, making it clear that because of the Holocaust and what you witnessed during your ordeal, you became a skeptic. Are you still asking questions? What is the nature of your faith or nonfaith today?
A: First question, yes, I continue asking questions. I belong to the Talmud tradition. The Talmudic tradition actually emphasizes the question, much more than the answer. Answers come and go, the questions are eternal. When it comes to the question of faith, of course, … profound or painful. So what I say to myself is, "Of course I believe in God." I believe in God because my father and my grandfather and his and so forth, they all believed, and (down) the line — I hope I'm not the last. … But my faith is a wounded faith.
Comment: Wiesel is proud to be Talmudic. In his tradition, answers are not expected. Perhaps answers are not even missed, for Talmudic Jews take pride and pleasure in endlessly discussing what is God among themselves. They determine God; it is not God who informs them. Wiesel says he continues to profess belief in God because he wants to honor his ancestors. It is a Jewish tradition.
Q: And what about the concept of justice? Is it possible to reconcile it with the abomination that was the Holocaust?
A: To me, this is the question of all questions. On many levels, I don't understand God, which I cannot. We have a very, very great sage called Rabbi Eliezer HaKalir. He was a great, great thinker and a poet, too. And he said, "If I knew God I would be God." So nothing concerning, really, the definitive God, the Almighty, Just, the King of the Universe is a question. I don't know how it's possible He knew and yet he is silent. So the silence of God troubles me. But it doesn't stop there. The silence of the world's leaders also troubles me.
Comment: The King of the Universe, says Wiesel, is silent about the Holocaust. Could it be because it is untrue and their God doesn't or can't acknowledge what is false and has no reality? In any case, Wiesel would rather focus on the world and its leadership.
Q: There's sacred justice, but there's also human justice.
A: Yes. Human justice. Exactly.
The next picture shows President Barack Obama shaking hands with Elie Wiesel, who specifically invited the U.S. president to visit the former Buchenwald camp during his trip to Germany in June 2009. Wiesel has great influence as the most famous survior of Buchenwald … but wait! He wasn't at Buchenwald. There are no records of his being there and he is not in the famous photograph above. What kind of trick is being played on the unsuspecting President Obama?
__,_._,__
+++
Fun stuff to read, tell and watch:
...an Israeli lawyer has filed a class-action lawsuit against former President Jimmy Carter, seeking $5 million in damages because his book "Palestine: Peace Not Apartheid" allegedly defamed Israel. Link:
http://tinyurl.com/3pltqg2
"...when you have laws against questioning the Holocaust narrative, you are screaming at the other person to stop thinking!!!" ---Mike Santomauro. *Anthony Lawson's Holocaust Video "were the Germans so stupid"... Link:
http://tinyurl.com/643q54n
Peace.
Mike Santomauro
Editorial Director
Call anytime: 917-974-6367
__._,_.___
.
__,_._,___