by Carolyn Yeager
Discovered! The newspaper photograph in which Hilda Wiesel recognized her brother Elie at the OSE home near Paris. (Might take some time to download.)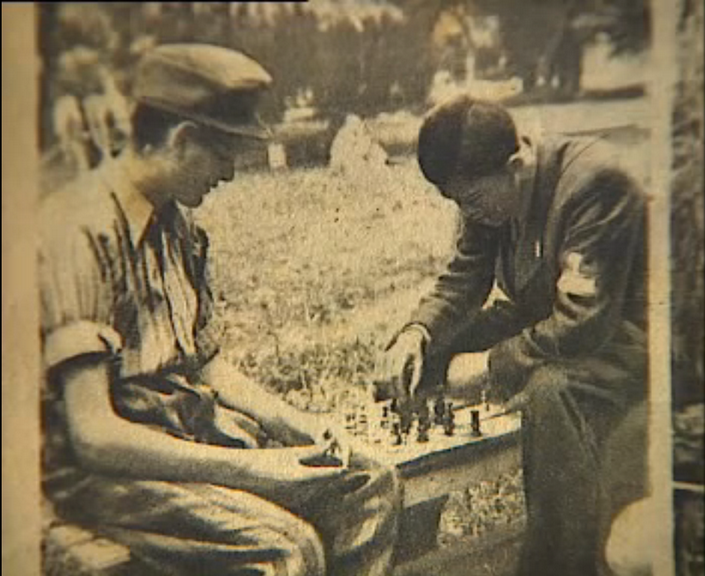 At the end of her video-taped
Shoah Foundation testimony
in 1995 (the same year Wiesel's memoir
All Rivers Run to the Sea
came out), Hilda shows some family pictures: her mother, her father, her sister and brother, and lastly the one above.
Hilda says (translated from French): With the cap, that's him. My brother with the cap. That is this picture that I saw in Paris and thanks to this picture we met. I was for several months in Paris, as he was too; and we didn't know we were both alive—and thanks to this picture we met.
Hilda may have been on the look-out for her brother when she saw this photo and thought or hoped it might be him. By contacting that OSE home that was mentioned in the story, and asking about Eliezer Wiesel, they located him there and the brother and sister were reunited. A heartwarming story, but it's clear to me that the boy in this picture is not Elie Wiesel. Compare the known Elie in the picture below taken at the same time.
+++
Fun stuff to read, tell and watch:
...an Israeli lawyer has filed a class-action lawsuit against former President Jimmy Carter, seeking $5 million in damages because his book "Palestine: Peace Not Apartheid" allegedly defamed Israel. Link:
http://tinyurl.com/3pltqg2
"...when you have laws against questioning the Holocaust narrative, you are screaming at the other person to stop thinking!!!" ---Mike Santomauro. *Anthony Lawson's Holocaust Video "were the Germans so stupid"... Link:
http://tinyurl.com/643q54n
Peace.
Mike Santomauro
Editorial Director
Call anytime: 917-974-6367
__._,_.___
.
__,_._,___