Dear All,
Debbie Menon So what occasioned the media's sudden interest? Police violence, of course. Occupy Wall Street- MSNBC Reporter SLAMS NYC Police Brutality!…
Oct 1 2011 / 7 Comments / Read More »
EDITORS NOTE: Keith Olbermann and Amy Goodman are covering it. Good! Now, lets read it in the NYTimes and listen to it on FOX News and other fair & balanced, and objective Media!
It's A War Going On! It's A Struggle
Amy Goodman: Occupy Wall Street Protest Enters Second Week
Keith Olbermann: pointed out Wednesday night on Countdown that the major newspapers had been ignoring the five-day-long "Occupy Wall Street" protests, but would have scrambled to cover a similar-sized tea party protest.
"Why isn't any major news outlet covering this?" he asked. "If that's a tea party protest in front of Wall Street about Ben Bernanke putting stimulus funds into it, it's the lead story on every network news cast. How is that disconnect possible in this country today with so many different outlets and so many different ways of transmitting news?"
Chris Hedges : Choose. But choose fast. The state and corporate forces are determined to crush this. They are not going to wait for you. They are terrified this will spread. …
Oct 1 2011 / 7 Comments / Read More »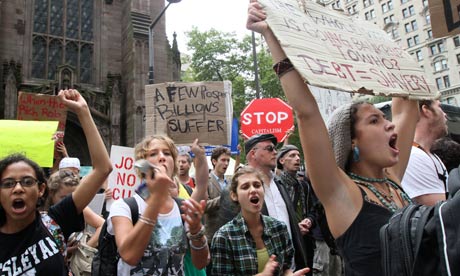 6.30pm: Looking at the photographs and video of the march coming in on Twitter, it's quite clearly the biggest demonstration since the Occupy Wall Street protests began. Thousands of people thronged through the streets of Lower Manhattan, in what is evidently a peaceful and good-humoured protest.
If there is no trouble later, the protesters will be able to chalk this up as a big success. On the downside, no Radiohead; on the upside, no pepper spray. Some of the marchers are starting to disperse; others are staying to hear the speeches at Police Plaza.
You can continue to watch the aftermath of the march on this live stream, and follow our reporters' tweets in the box on the right of this page.
6.26pm: Colin Jones of the New York Daily News says the "call and response"speaking pattern is going in four waves, because of the numbers at Police Plaza.
6.12pm: The march has arrived at 1 Police Plaza, according to Paul Harris, who says the chant is "We are the 99 per cent".
5.53pm: The march is being led by older women in "grannies for peace" bibs, according to Paul Harris. "Probably a tactic to reduce police macings," he tweets.Adam Gabbatt says police are lining road to prevent overspill into adjacent streets, but otherwise appear "hands off".
5.49pm: And here's a message to the viewers at home: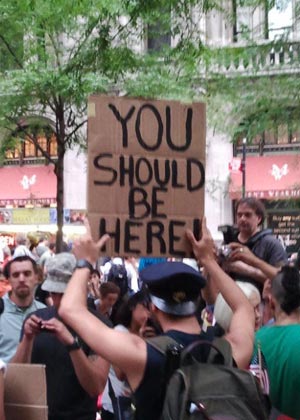 5.31pm: Pictures being posted on Twitter show that the numbers marching in Lower Manhattan are indeed large.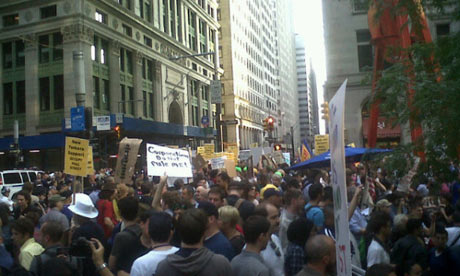 :
In America, you can pick any period and decide that's the one, where we became like Russia, that the press quit digging for the truth and started playing "lapdog" to a government that, itself played "lapdog."
--
The Essence of True Humanity is CompassionDebbie Menon
http://mycatbirdseat.com/
http://www.facebook.com/mycatbirdseat
http://twitter.com/mycatbirdseat/
+++
Fun stuff to read, tell and watch:
...an Israeli lawyer has filed a class-action lawsuit against former President Jimmy Carter, seeking $5 million in damages because his book "Palestine: Peace Not Apartheid" allegedly defamed Israel. Link:
http://tinyurl.com/3pltqg2
"...when you have laws against questioning the Holocaust narrative, you are screaming at the other person to stop thinking!!!" ---Mike Santomauro. *Anthony Lawson's Holocaust Video "were the Germans so stupid"... Link:
http://tinyurl.com/643q54n
Peace.
Mike Santomauro
Editorial Director
Call anytime: 917-974-6367
__._,_.___
.
__,_._,___